Sorry to post this late... been away for a bit!
Anyways, this is the best news I have heard in a loooooooooong time! Can you believe this great news! Sonic the Hedgehog is OFFICIALLY apart of the Super Smash Bros Brawl video game! That is freakin awesome! I can hardly contain my excitement!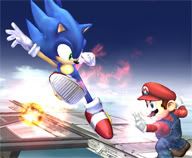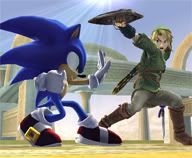 Don't believe me??? Check here for yourself:
SmashBros.com
The one whose Smash appearance has been most desired dashes in from far away at supersonic speed.

Sonic the Hedgehog crashes headlong into battle!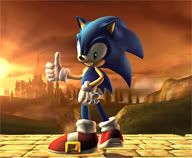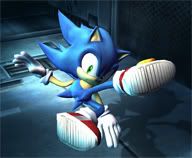 Sonic: Special Moves
The original Sonic the Hedgehog game used only one button. I think its simple yet exhilarating play was its virtue.

And given that this game's controls are also simple, I think it personifies his distinct characteristics.
1. Side Special Move: Spin Dash - Hop into a supersonic Spin Dash. If you charge it up just a bit, your speed will increase. It's also possible to rise up while spinning.
2. Down Special Move: Spin Charge - By holding the Control Stick down and tapping the special-move button, you charge up your spin and do a Spin Dash. This may feel better for some—there's no pop.
3. Up Special Move: Spring Jump - And his up special move is the Spring Jump. That spring launches you wayyy up in the air.
I gotta have this game!!!!!!!! Now that sonic is in it....it will be one of the best games EVER! Can you tell I'm excited??
Labels: smash bros, smash bros brawl, smash bros sonic, sonic, sonic games, sonic smash brawl, sonic the hedgehog, super smash bros brawl, super smash bros brawl sonic